FITUR 2024 in Madrid, Spain with TAT
Fitur 2024 | Feria Internacional de Turismo
is the first appo
intment
of the year for the world's tourism professionals and the leading trade fair for Spain and Latin America Market.
For more information, please visit FITUR website: https://www.ifema.es/en/fitur
24-28 JANUARY 2024 Madrid, Spain
Join FITUR 2024 as our Co-exhibitors in the Thailand Stand!
Online Application starts from TBA
PLEASE READ THE FOLLOWING INSTRUCTIONS CAREFULLY BEFORE COMPLETING THIS FORM

APPLICATION CONDITIONS FOR THAI SELLER (Co-exhibitors)
1. All sections of this application form must be completed.
(Login to your TTVM account and select "Join Now")
2. The application form is strictly treated on a first-come-first-served basis and
will only be considered complete when the application fee is paid.
3. You will received the payment detail once your application is applied.
Once you have paid the application fee, please submit an evidence of payment to TAT by e-mail [email protected] .
4. In case the space is still available, TAT reserves the right to end the application process
prior to the show in order to have enough time for booth preparation.


5. For FITUR 2024, the reserved space for Thailand Stand will be able to accommodate up to ... (TBA)
The application process will not be available once the space is fully booked.
6. The application fee is 45,000 Thai baht per company with maximum of two (2) participants for each company.


7. No refund or change of exhibitor's name after TBA
No refundable for any cancellation. (including any cause of travel rejection)
*TAT does not assume, and expressly disclaims, any liability, direct or indirect, to you or any person, for your health and wellness, which occurs from COVID-19 or any infectious diseases, or any damages or injury caused by any failure of performance or incidental accidents. We disclaim any responsibilities for diagnosis and medical care expenses, or any expenses for health treatments.
APPLICATION FEE: THB 45,000 for one table.
(The application fee includes one table and 2 badges access)
CONTACT PERSON: Mr. Jade Junnapiya

Europe, Africa and Middle East Market Division
12th Floor, Tourism Authority of Thailand
1600 New Phetchburi Road, Makkasan,
Rajthevee, Bangkok 10400
Tel: (66 2) 250 5500 ext.1279, 1277
E-Mail: [email protected]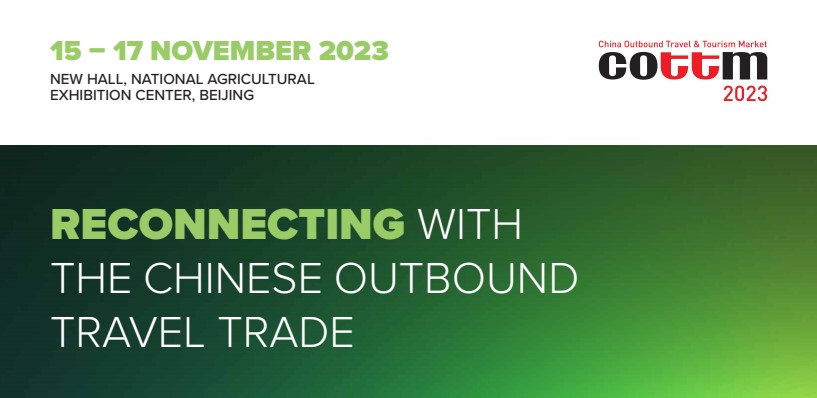 China Outbound Travel and Tourism Market (COTTM) 2023
Located in the capital of China Beijing, COTTM is the perfect platform to display your products to a prime audience that is ready to buy. Date: 15 - 17 November 2023, Beijing
15/11/2023 - 17/11/2023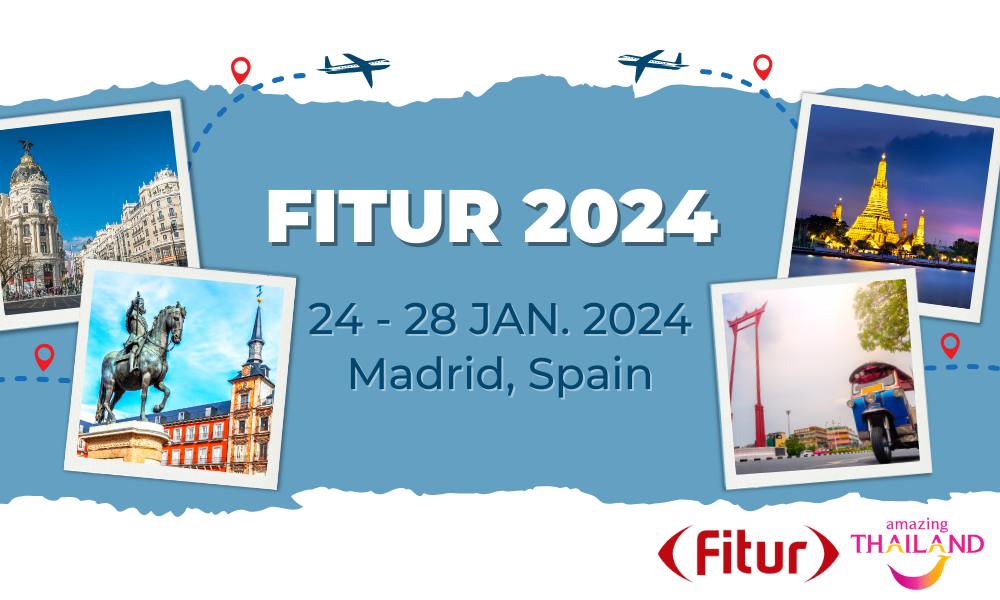 FITUR 2024 in Madrid, Spain with TAT
Join FITUR 2024 as our Co-exhibitors in the Thailand Stand.
24/01/2024 - 28/01/2024

Feria Internacional de Turismo de América Latina 2023
FIT 2023 or Feria Internacional de Turismo de América Latina 2023 Buenos Aires, 30 September - 3 October 2023
30/09/2023 - 03/10/2023
Tourism EXPO Japan 2023 (TEJ 2023)
This event offers a fusion of opportunities, ranging from business meetings, insight sharing, discussions, and direct business-to-business and business-to-customer promotions.
26/10/2023 - 29/10/2023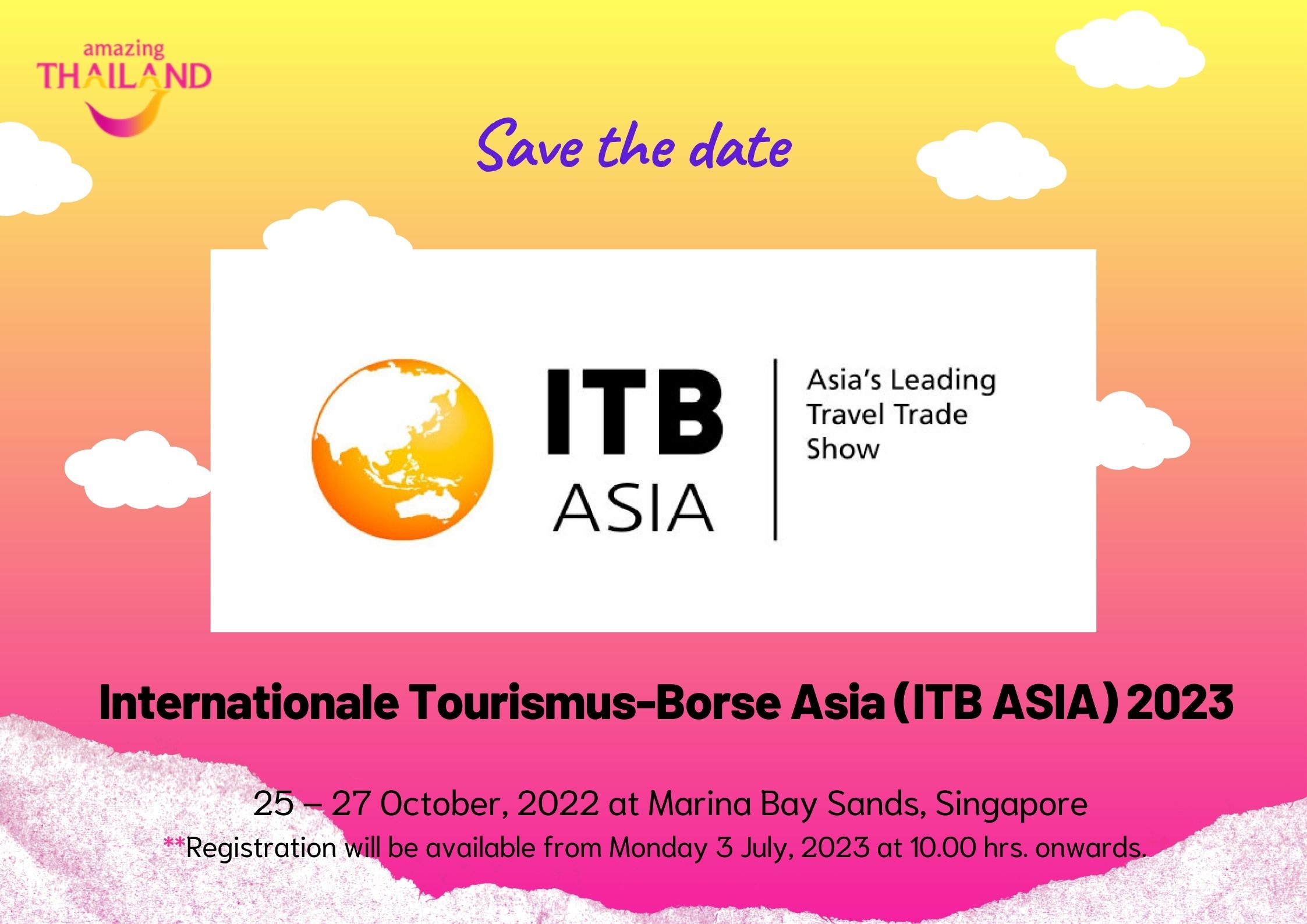 ITB ASIA 2023
ITB Asia is the premier meeting place for the travel trade industry and a forum for establishing high-quality customer contacts and conducting businesses.
25/10/2023 - 27/10/2023