Amazing Thailand Roadshow to South Africa 2023
Amazing Thailand Roadshow to South Africa 2023
28 March 2023 - Johannesburg
30 March 2023 – Cape Town
*******************************
** Registration is available from 24 November 2022, 10.00 hrs. onwards**
PLEASE READ THE FOLLOWING INSTRUCTIONS CAREFULLY BEFORE COMPLETING THE APPLICATION FORM
Sellers qualification:
- Participants must have a valid authorized business license.
- Participants must receive SHA+ certificate.
Application Conditions:
1. This event can accommodate 19 Thai sellers, comprises of:
- Hotels & accommodations 17 companies
- DMCs 2 companies
2. Application for Thai Sellers is available from 24 November -15 December 2022 or until it's fully booked with the first come first served basis based on payment.
3. The application process will not be available once the space is fully booked.
4. No refund or change of exhibitor's name after 9 January, 2023.
How to register:
1. All sections of this application form must be completed.
(Login to your TTVM account and select "Join Now")
2. The application form is strictly treated on a first-come-first-served basis and will only be considered complete when the application fee is paid.
3. You will receive the payment detail after the registration. Once you have paid the application fee, please submit evidence(s) to TAT by email [email protected]
**TAT does not assume, and expressly disclaims, any liability, direct or indirect, to you or any person, for your health and wellness, which occurs from COVID-19 or any infectious diseases, or any damages or injury caused by any failure of performance or incidental accidents. We disclaim any responsibilities for diagnosis and medical care expenses, or any expenses for health treatments.**
APPLICATION FEE: THB 45,000 for one company/ maximum of 2 delegates.
*No refundable for any cancellation. (Including any cause of travel rejection)*
Event Timeline:
Registration – 24 November -15 December 2022 (or until it's fully booked)
Payment for registration – 20 December 2022
For more information, please contact:
Ms. Supamisa Visanuvimol Tel. 02 250 5500 ext. 1274
Or Ms. Piyarat Naranirattisai Tel. 02 250 5500 ext. 1262
Email: [email protected]

Amazing Thailand Roadshow to South Africa 2023
Amazing Thailand Roadshow to South Africa 2023 28 March 2023 - Johannesburg 30 March 2023 – Cape Town
28/03/2023 - 30/03/2023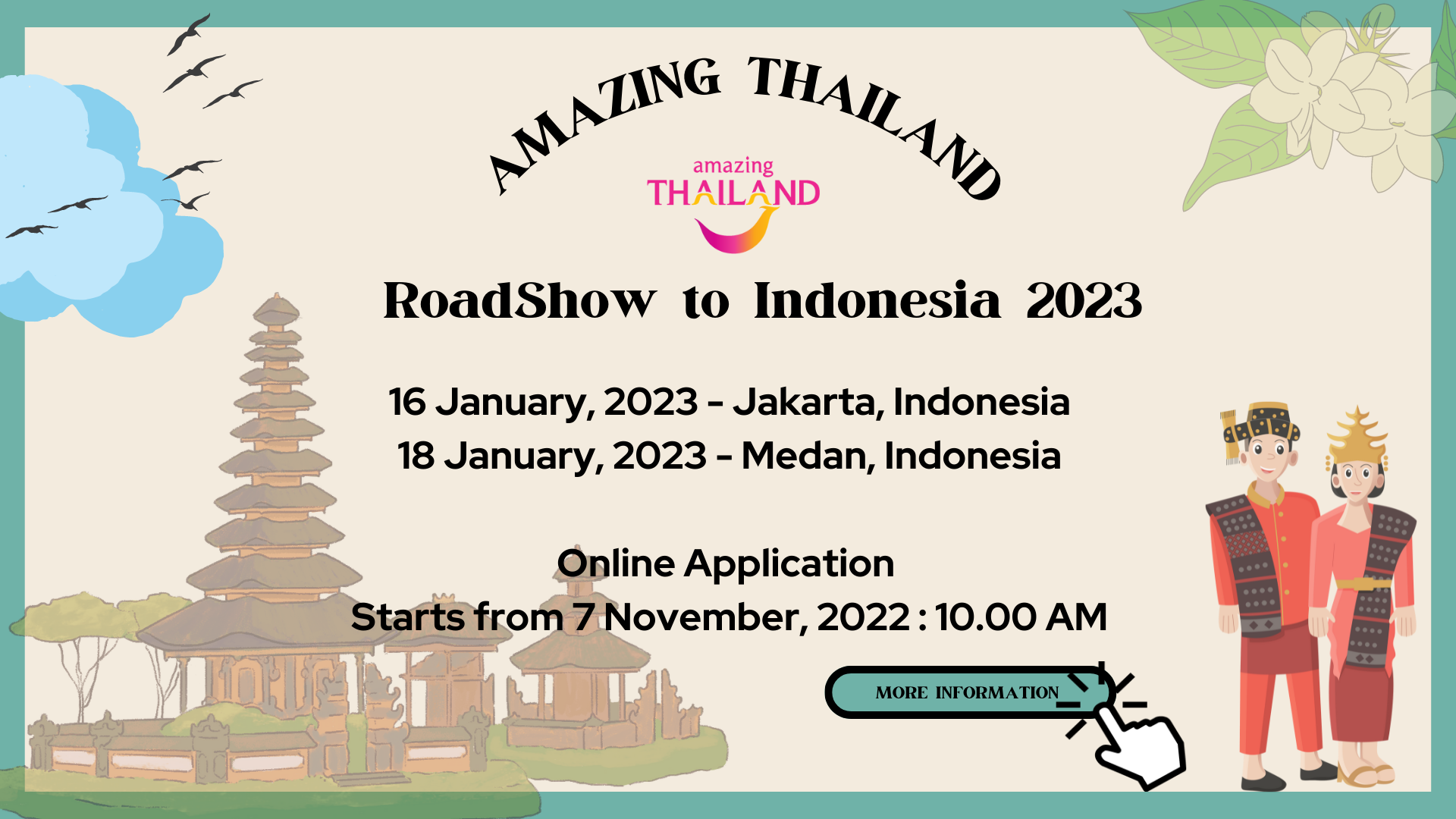 Amazing Thailand Road Show to Indonesia 2023
Amazing Thailand Road Show to Indonesia 2023 16th January 2023- Jakarta, Indonesia 18th January 2023- Medan, Indonesia
16/01/2023 - 18/01/2023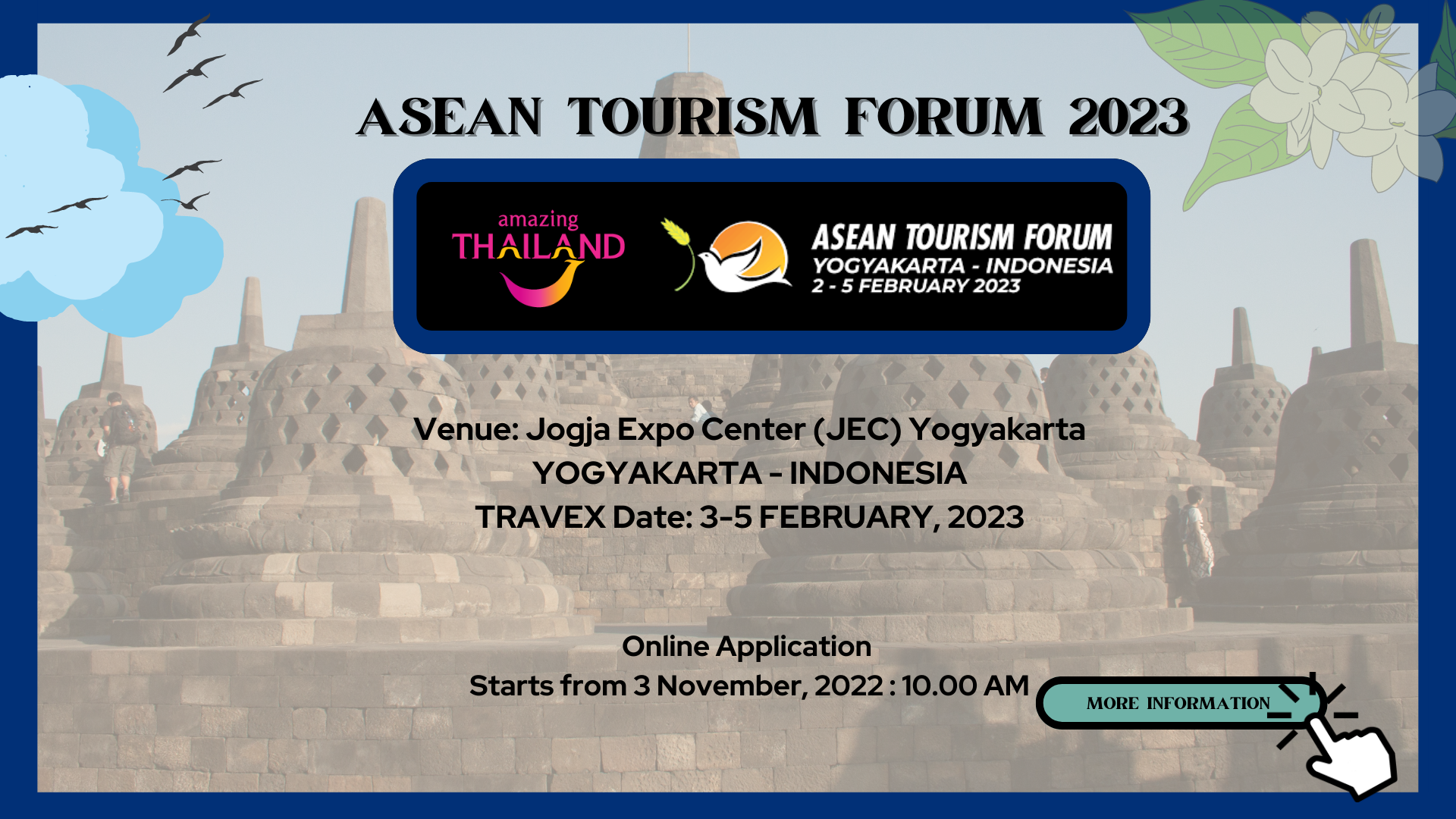 ASEAN Tourism Forum (ATF) 2023
ATF 2023 3 – 5 February, 2023 ASEAN Tourism Forum (ATF) 2023 3 – 5 February 2023 in Yogyakarta, Indonesia
03/02/2023 - 05/02/2023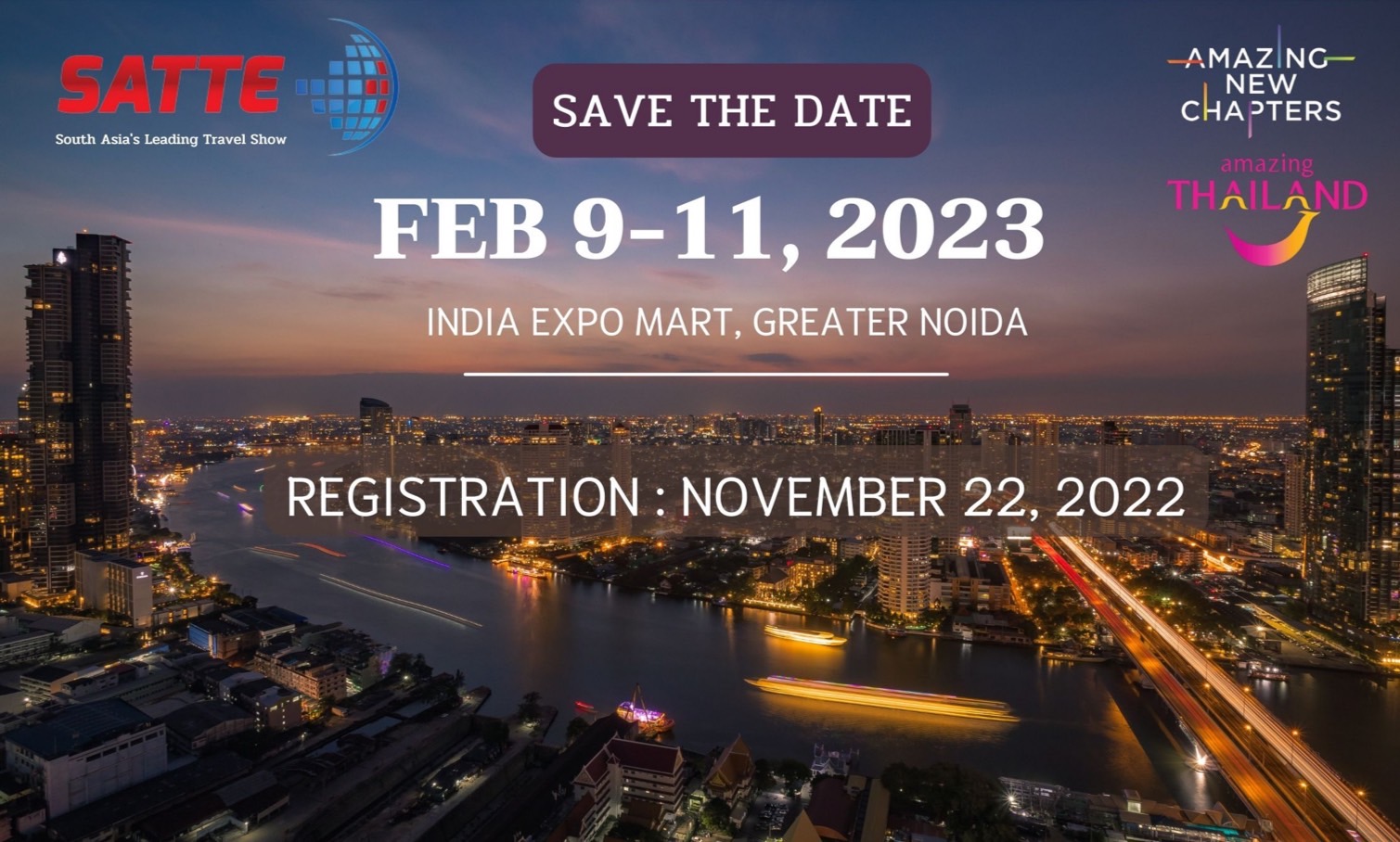 South Asia Travel and Tourism Exchange (SATTE) 2023
South Asia Travel and Tourism Exchange (SATTE) 2023
09/02/2023 - 11/02/2023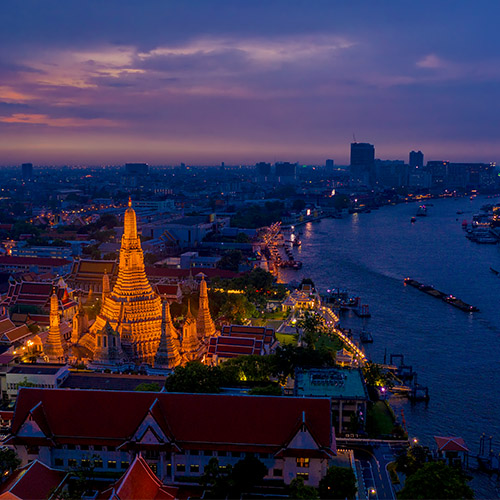 Ferie for Alle 2023 (Danish Travel Show)
Ferie for Alle 2023 (Danish Travel Show) Herning, Denmark
24/02/2023 - 26/02/2023